Canadian Museum for Human Rights Takes Guests on a Skyward Journey
It isn't a museum of objects, it's a museum of action.
Built on Treaty One territory, in the Forks historic site in Winnipeg, Manitoba, the Canadian Museum for Human Rights stands as a monument to creating equal human rights for all. Completed in 2014, and designed by Architect Antoine Predock, its spiralling design takes visitors on an upward journey, progressing from ground to sky, dark to light – working as a metaphor for the struggle and journey ahead.
With a total floor space of 260,000ft² over five main levels, three administrative mezzanine levels and a 328ft-tall glass structure called the 'Tower of Hope'. The central atrium includes the Garden of Contemplation, which features reflection pools and greenery, enveloped by an enormous curved glass facade.
An elevator starts in the Bonnie & John Buhler Hall, and stops at all gallery levels, from level 2 through 7. At centre, the tower elevator, and spiralling staircase serves Level 3 through Level 8, and brings visitors up the Tower of Hope to a lookout that pierces through and above the roofline.
"It's a museum about ideas. It's a process building. It's a procession building" says Predock.
Moving up the Tower of Hope, panoramic views overlook administration offices, "making what's normally the backstage totally visible," Predock says. "You see people hustling, working on human rights issues in real time. It's light and bright and the white steel all around is buoyant, and there's this animation that you're picking up on. It's about action." The journey culminates in an ascent to the Israel Asper Tower of Hope viewing platform and panoramic views of sky, city and the natural realm beyond.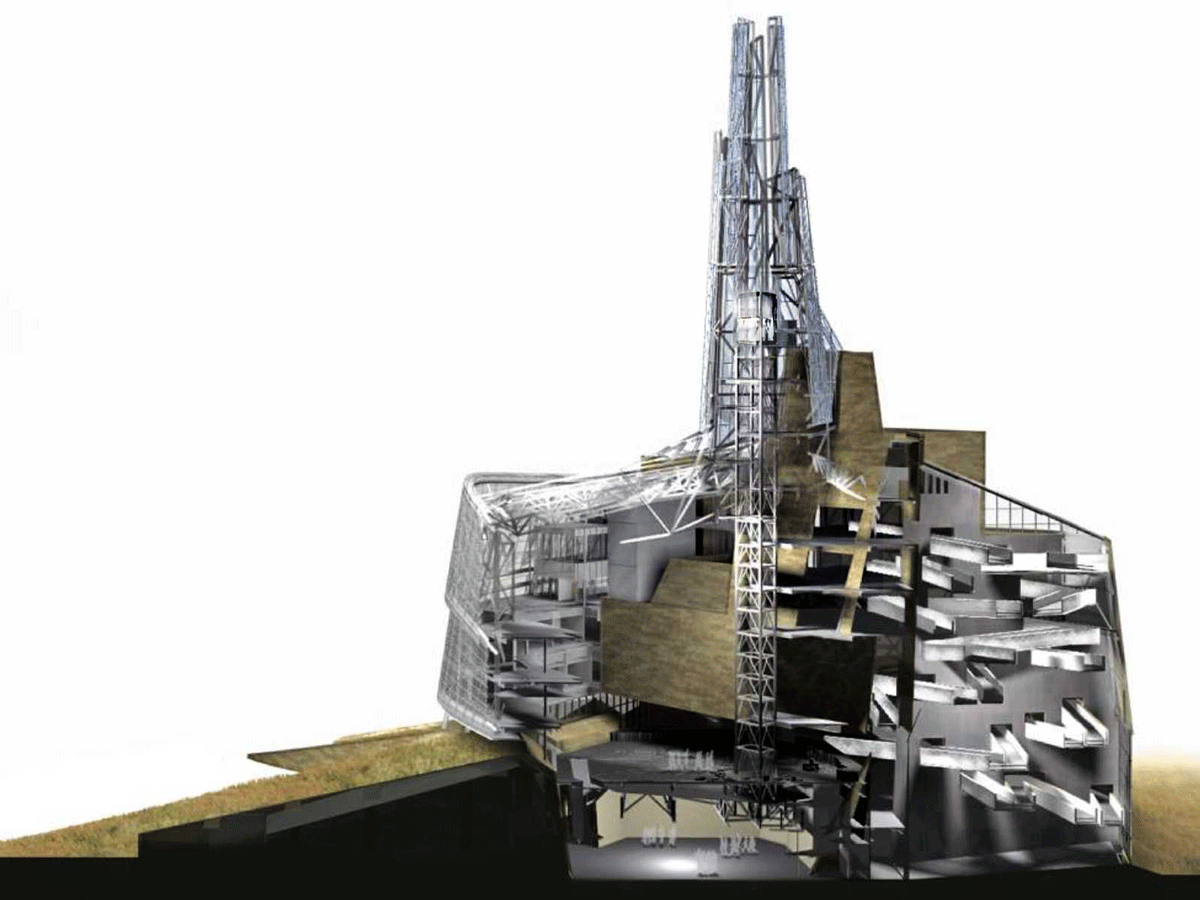 "we will set new Canadian and world standards for universal accessibility"
The Museum was built to feature inclusive design and sets a global example for accessibility. From the way you enter the building to the way you interact with exhibits, the designers and program directors ensured the experience to be inclusive and accessible for everyone.
"In our museum, disability will not be treated as a special condition, but as an ordinary part of life that affects us all," said Stuart Murray, the museum's president and CEO. Murray notes the federal museum, exceeds the criteria for accessible design set out by the National Building Code and Smithsonian guidelines.
In the end, what Architect Antoine Predock achieved with the design, is a truly inclusive centre, where visitors can witness the amazing work achieved, to learn about the inner workings and ongoing efforts, and to consider the tremendous amount of work that is still ahead.