Frank Lloyd Wright designed Research Tower and Custom Elevators
The Johnson Wax Campus is the world headquarters and administration building of SC Johnson & Sons. Designed by American architect Frank Lloyd Wright and constructed from 1936 to 1939 in Racine, Wisconsin, Wright was personally selected by the company's president, Herbert F. "Hib" Johnson.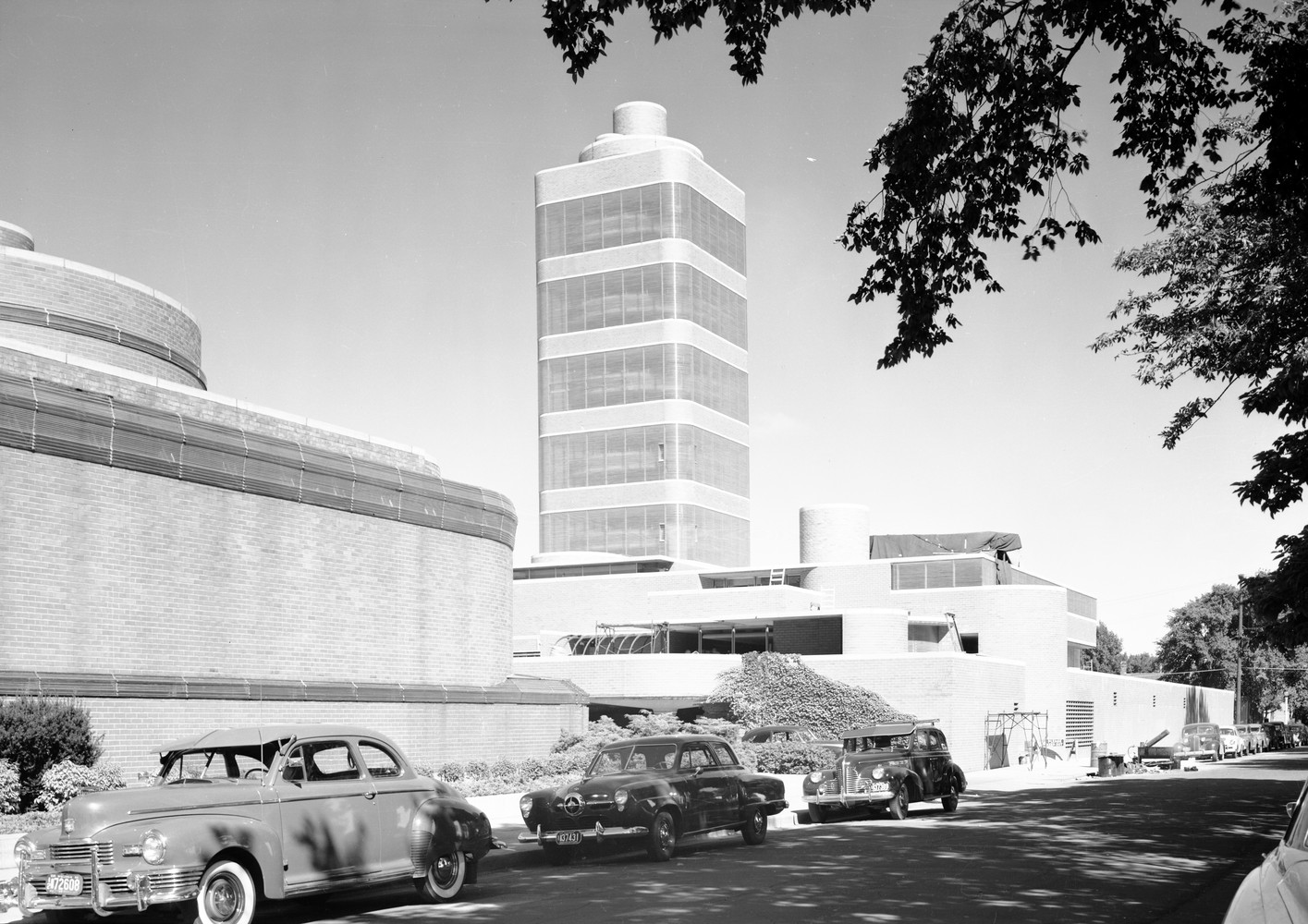 Also known as the Johnson Wax Administration Building, it and the nearby 14-story Johnson Wax Research Tower (built 1944–1950) includes some of Frank Lloyd Wrights only known elevators. Its distinctive "lily pad" columns and other innovations revived Wright's career at a point when he was losing influence in the modern architecture community.
The Research Tower was a later addition to the building, and provides a vertical counterpoint to the horizontal administration building. Alternating square floors and round mezzanine levels make up the interior, and are supported by the "taproot" core, which also contains the building's elevator, stairway and restrooms. The core extends 54' feet into the ground, providing stability like the roots of a tall tree. It is one of only 2 existing high rise buildings by Frank Lloyd Wright. The tower's floor slabs spread out like tree branches, providing for the segmentation of departments vertically.
The tower consists of 15 floors all supported by a central core that extends 54 feet into the ground. The walls are created with 5,800 Pyrex glass tubes, lined with bands of more than 21,000 Cherokee Red bricks. In 1976, the building was designated as a National Historic Landmark. The Research Tower is no longer in use because of the change in fire safety codes (it has one 29-inch wide twisting staircase), although the company is committed to preserving the tower as a symbol of its history.
In 2013, an extensive 12-month restoration was completed. The research labs shown on the tour have been set up to appear frozen in time, including beakers, scales, centrifuges, archival photographs and letters about the building.
"Alternating square floors and round mezzanine levels make up the interior, and are supported by the "taproot" core, which also contains the building's elevator, stairway and restrooms."